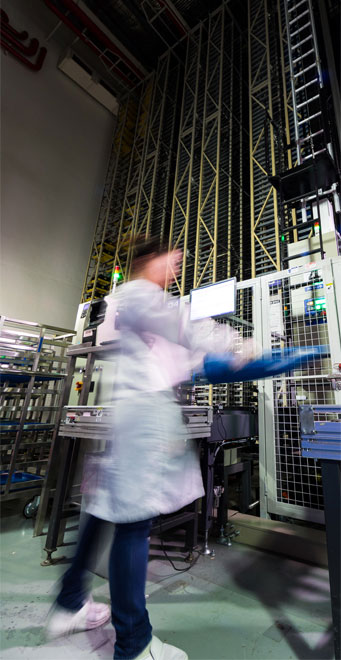 Products &
Innovation
Micron's memory and storage solutions are at the core of countless digital devices. We're constantly innovating to make those solutions faster and more efficient.
As a global leader in memory and storage technology, Micron plays a vital role in some of today's most significant advances, including artificial intelligence, industrial automation, the internet of things, autonomous vehicles and cloud computing. And as innovations like these enter the mainstream and demands for memory and storage increase, the need to analyze, access and act on data only grows.
Memory and storage were once standardized hardware components. Now, diverse demands have led to a corresponding specialization of solutions, requiring not just more memory but also new types of intelligent memory and storage architectures. This change creates opportunities for us to work with customers to better understand their needs and create innovative products that give them unique value.
Memory and storage affect the sustainability of a variety of end products, from computer energy use to vehicle safety. This is why we strive to consistently improve performance, investing in research to deliver higher capacity, greater user privacy and data protection, faster data transfer rates, lower power consumption, increased energy and material efficiency, and improved reliability. Through supplier engagement, technology development and legal compliance, we evaluate new materials to ensure the safety of our employees and the materials in our products.
Giving Patients the Gift of Time
Precision oncology, an emerging approach in cancer care, involves tailoring treatments to each patient. The process requires measuring, visualizing and integrating various levels of clinical information from symptom expression all the way down to tumor-level DNA. This generates many terabytes of data that are highly complex and time-consuming to process. But when treating patients with advanced diagnoses, every moment counts. Thanks to Micron's deep learning accelerators, the Knight Cancer Institute in Oregon is speeding up its analytics pipeline — so it can determine and deliver treatments faster than ever.
The World Economic Forum welcomed Micron's Singapore fab into the Global Lighthouse Network of advanced manufacturers "that are showing leadership in applying the technologies of the Fourth Industrial Revolution to drive operational and environmental impact."