Our corporate responsibility pillars
Invesco's CR program works toward progress in three main areas of focus, which have been updated to reflect our 2020 materiality assessment.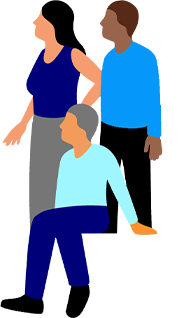 Invesco's Corporate Responsibility Pillars
Diverse & Inclusive Culture
Fostering a diverse and inclusive culture
Our actions create an environment where diversity can thrive. Our broad definition of diversity promotes employee well-being, equity and inclusion across our organization.
Employee engagement
Fair labor practices
Training and professional development
Diversity and inclusion
Corporate giving and employee volunteerism
ESG Investments
ESG investments that align with clients' long-term interests
Our greatest opportunity for impact is to integrate ESG across our products, investment stewardship and distribution while aligning with our clients' long-term interests. Our actions underscore our dedication to understanding the unique investment philosophies of our clients and confirming that our investments support their objectives.
Active ownership/engagement
Climate risk
ESG integration in investment decision-making
Proxy voting
Sustainable investment products
Systemic risk management
Transparent information and fair advice for customers
Sustainable Operations & Governance
Sustainable operations and strong governance
We govern ourselves in an ethical, transparent and responsible manner. We conduct our operations in a way that minimizes our impact on the environment while protecting and enhancing results for our stakeholders.
Board diversity
Business ethics and professional integrity
Corporate governance and risk management
Cybersecurity
Data privacy and protection
Environmental stewardship
Financial performance
Human rights
Legal and regulatory compliance
Public policy involvement
Responsible sourcing and procurement
Transparency and disclosure