Environmental partnerships
Invesco and our employees continually look for ways we can extend our reach and help protect the environment through initiatives and partnerships with environmental organizations that operate in our communities. In 2020, environmentally focused partnerships and sponsorships included: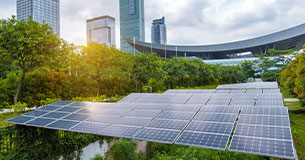 The Nature Conservancy Georgia
Our President and CEO Marty Flanagan became co-chair of The Nature Conservancy Georgia's 2020 "Nature Unites Us" campaign. The aim of the campaign was to raise $36 million for two initiatives, one focused on building healthy cities that generate benefits for public health and the other focused on clean water.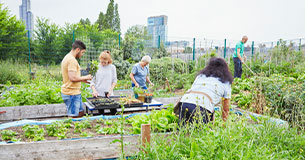 Urban Green Jobs
This program is a partnership with The Nature Conservancy and HABESHA, a local organization that works in communities within Atlanta's South River watershed. Urban Green Jobs offers paid training and internships in green space management, urban agriculture and green jobs of the future to adult Atlantans who live on the city's south side.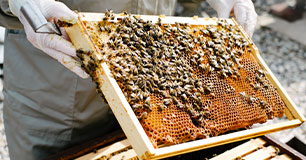 Bee Downtown
Bee Downtown installs and maintains beehives on corporate campuses with the goal of rebuilding healthy honeybee populations, while simultaneously providing a way for employees to get involved in nature. Invesco partners with Bee Downtown to maintain an apiary at our Atlanta office. In 2020 this partnership resulted in 900+ hours of employee engagement and 300+ jars of honey produced.
Reducing the digital divide while reducing waste
Very often, used office furniture and business equipment ends up in landfills. During an office renovation or move, a company may dispose of desks, chairs, computers and other items without the knowledge that these items are needed by schools just a few miles away. That's why Invesco is a proud sponsor of Business2Schools, a U.K. charity that works to address this imbalance, close the digital divide and reduce unnecessary waste by diverting perfectly good furniture and technology away from landfills and into schools. In 2020, Invesco donated a variety of surplus items to schools through Business2Schools, including office furniture, pens and other office supplies.