Supporting employee
well-being during
COVID-19
Invesco commits to support the health and well-being of each and every one of our global employees. This commitment took on new meaning in 2020 during the COVID-19 pandemic. We introduced additional measures to address safety and health, ranging from providing ergonomic equipment to employees working at home, introducing global awareness training on COVID-19 safety measures for those entering an Invesco office and the launch of the InvescoTogether website, which provides tips and resources for employees to stay well, connected and productive while working remotely. These measures, coupled with efforts to support employee mental health and well-being, aim to address the holistic safety of our employees.
Our global, coordinated response
Invesco began responding to the COVID-19 pandemic in December 2019 when the virus was first reported in Asia-Pacific. Our response has been led by Invesco's senior leaders, who meet frequently with our Emergency Management Team and global and regional task forces. All COVID-19 response measures were rolled out while preserving our ability to serve clients and manage client assets by maintaining smooth and uninterrupted operations.
Our initial response in the Asia Pacific region included the relocation of a regional trading center, restrictions on employee travel to and from the region and remote working for most of our Asia-Pacific-based employees. By late February, as the virus began spreading across Europe and North America, all Invesco business travel was halted; we implemented visitor restrictions for our offices; and remote working requirements were established across continental Europe and the U.K. By early March, all global Invesco employees were working remotely. We adapted to a remote working environment with minimal interruption due to several factors, including our flexible work guidelines, robust technology platforms and dedicated security teams.
Keeping informed and staying connected
Although COVID-19 is creating physical distance among our employees, we are still implementing measures that foster connection.
Invesco conducted five check-in surveys in 2020 to gauge the general well-being of our employees, help inform Invesco's response to the COVID-19 pandemic and highlight topics of concern. The results of these surveys helped ensure employees were provided the support and resources to stay safe, healthy, connected and productive.
The InvescoTogether website serves as the dedicated hub for all COVID-19-related information, remote success resources and virtual connection point for Invesco employees. The site contains content that helps employees stay well, stay productive and stay connected, including:
Resources and training on how to stay healthy and balanced, including links to COVID-19 specific benefits information, virtual mindfulness workshops and employee assistance information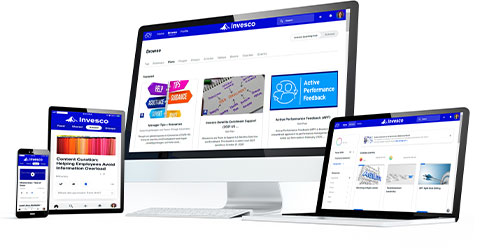 Tips, tools and resources for how to make the most of our new working environment—complete with working-from-home guides, caregiving and homeschooling resources
Best practices for maintaining meaningful connections virtually
Human Resource guides to assist employees and managers
Workshops registration
Invesco Benefits information
Links to the #InvescoTogether Yammer feed, which provides virtual opportunities for employees to connect and share ideas to manage work, build resilience and navigate uncertainty
Due to its success and frequent use by employees across the globe, InvescoTogether will continue as a resource for employees after the pandemic.
Additionally, our senior managing directors regularly communicate COVID-19 updates through live video streams, recorded audio messages, casual digital question and answer forums and written communications. In addition to the InvescoTogether site, internal social media and mobile apps provide our employees with access to information anytime, anywhere, from any device.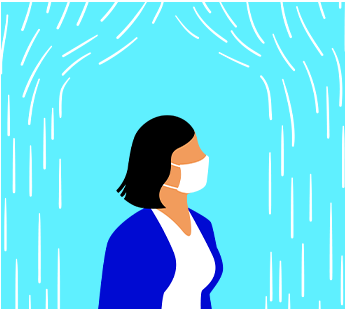 A Focus on well-being
The COVID-19 pandemic has fundamentally changed the way many of our employees work. For most, it has required a shift to at-home offices, often coupled with new caregiving responsibilities. Along with uncertainty, the pandemic has also brought feelings of isolation and anxiety to some of our employees.
At the start of the pandemic, Invesco created a focus group to understand how we can better support working parents, many of whom found themselves juggling their workload in addition to homeschooling or additional childcare responsibilities. As a result of the insights gathered during this focus group, we introduced more flexibility for working parents.
In response, Invesco has introduced several new benefits and initiatives to promote the health and well-being of our employees—specifically caregivers and those who are experiencing social isolation.
In our EMEA region, we trained 51 mental health first-aiders. Participants received over 15 hours of training providing an in-depth understanding of mental health and the factors that can affect well-being, practical skills to spot the triggers and signs of mental health issues, strategies to step in and support a person in distress and knowledge of available resources so that they can offer confidential mental health support in their offices. Our EMEA region also offered online Mental Health Awareness modules to managers, offering training and resources to support mental health in a virtual environment. Globally, we also developed an email series that included mental health tips for all managers to share with their teams to promote dialogue on the topic.
With many employees working from their homes, we recognize that it is more difficult to step away from "the office." Invesco initiated our InvescoUnplugged campaign, which encouraged employees to take their annual leave and paid time off, unplug from their work and be mindful of their mental health—even if this means doing so from home.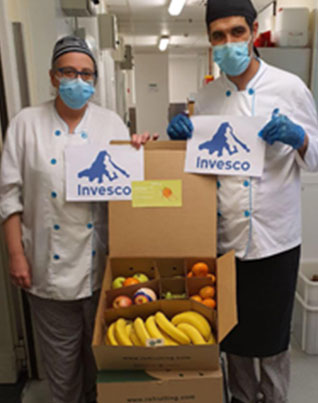 Invesco donated over
$1 million
to COVID-19 relief
Community
support during
COVID-19
In early 2020, Invesco mobilized our efforts to focus on providing a robust COVID-19 community response. We donated $1 million in support of COVID-19 relief efforts globally across the communities in which we operate. This included a donation to the COVID-19 Solidarity Response Fund, Doctors Without Borders, Save the Children, and the Greater Atlanta, NYC and Houston COVID-19 Recovery Funds. Additionally, we increased donations to local charities in the local communities where we operate around the world.
Each year, we give our employees paid time off to volunteer in their local communities through Invesco Cares activities. In 2020, we provided unlimited volunteer days for any employee with medical training to assist with COVID-19 support, and we encouraged all employees to volunteer by increasing paid days off so that they could provide assistance to their neighbors and community members.
Around the world, Invesco offices contributed by donating items to their local communities to help address COVID-19 issues. Some of those activities included donating 4,700 face masks to health care professionals, organizing fundraising drives to provide money, food and essential items to communities and reallocating and donating essential items from our offices to local foodbanks and first responders. Our offices across Invesco globally donated meals—particularly the fruit that is delivered to our offices weekly—to local hospitals so that front-line health care workers were fed during their 24-hour shifts.
Recognizing that in-person volunteering wasn't an option for many in 2020, our matching gift campaign provided employees with another means to give back. Our wealth management intermediaries distribution team in North America took this even further by raising $30,000 for Feeding America to fight food insecurity during the COVID-19 pandemic.