Employee benefits
Invesco provides comprehensive, industry-competitive benefits, which include retirement, health and well-being programs and income protection, among others. These benefits are generally available to all full-time employees.
We always look for new ways to enhance our benefits to provide support to our employees in the ways that matter to them. In 2020, Invesco introduced Juneteenth as a paid holiday to all employees to demonstrate our commitment to an inclusive culture to our Black employees.
To support working parents, in addition to increasing flexibility amidst the COVID-19 pandemic, we introduced a new gender-neutral parental leave policy in EMEA, and a parental leave for domestic partners and foster parents. All Invesco employees are entitled to parental leave, either as provided by regulation and legislation or as a separate benefit offering provided by Invesco. In the U.S., where parental leave is not federally mandated, we provide for up to 18 weeks of paid parental leave for birth mothers and 10 weeks of paid parental leave for fathers/domestic partners and adoptive or foster parents after the birth or adoption of a child. We also added leave for gender surgeries, and we expanded health care coverage to employees' partners in countries where domestic partners are not legally recognized.
Additionally, in 2020 we did more to support the different ways our employees like to work through our new Smart Working Policy. This policy recognizes that our employees' performance is measured by the quality of what they deliver and their positive behaviors, rather than by the hours they work. Smart working means we provide our employees with the tools, the culture and the technology that enables them to choose when, where and how they do their jobs. We commit to smart working and fostering a flexible and collaborative workplace that enables employees to better manage work and personal commitments. Through our smart working policy, we will also further normalize working from home post-COVID-19. Our focus is on ensuring that people can deliver what is expected of them in a way that is successful for both Invesco and for themselves.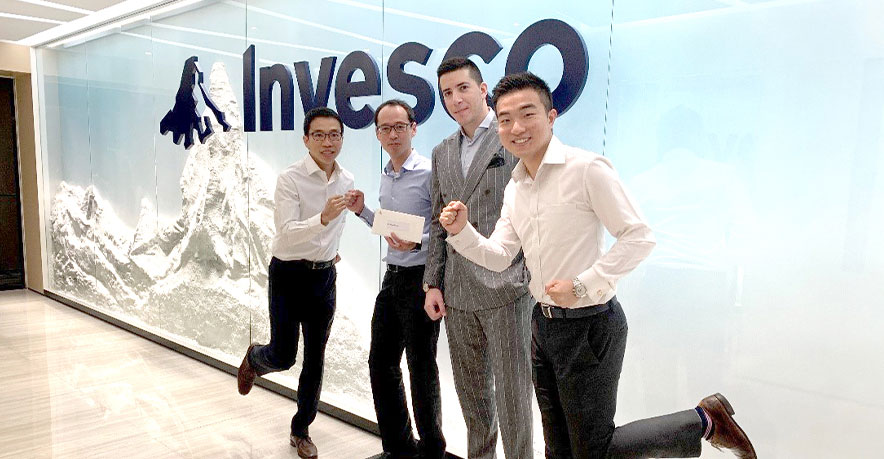 Fair Labor Practices
We maintain clear policies and procedures to proactively support our commitment to diversity, equal opportunity and a safe, inclusive workplace. We are committed to upholding a work environment that is free of discrimination and harassment, and we expect every employee to show respect for colleagues, clients, employees and vendors.
In addition, as an employer that strives for equality of opportunity, we make employment and promotion decisions based on clear, job-related criteria and an individual's experience and aptitude to perform the role, as well as ensuring that they display behaviors and values that correspond with Invesco's.
Fair Compensation
We review pay equity at all levels to ensure that individuals with similar roles and responsibilities are receiving comparable wages, with bonuses determined on the merits of their performance. In addition, the CEO and SMDs receive the same benefits as all other employees (e.g., participation in the same 401(k) plan without supplemental retirement plans).
Pay equity reviews are also performed at Invesco throughout the regions in the world. These reviews look at pay bands by role and gender. As needed, third-party vendors are engaged for the reviews. Regular checks for pay equity are performed when running offer scenarios for candidates.
Invesco U.K. provides additional fair compensation practices, including the Gender Pay Gap report for U.K. offices.