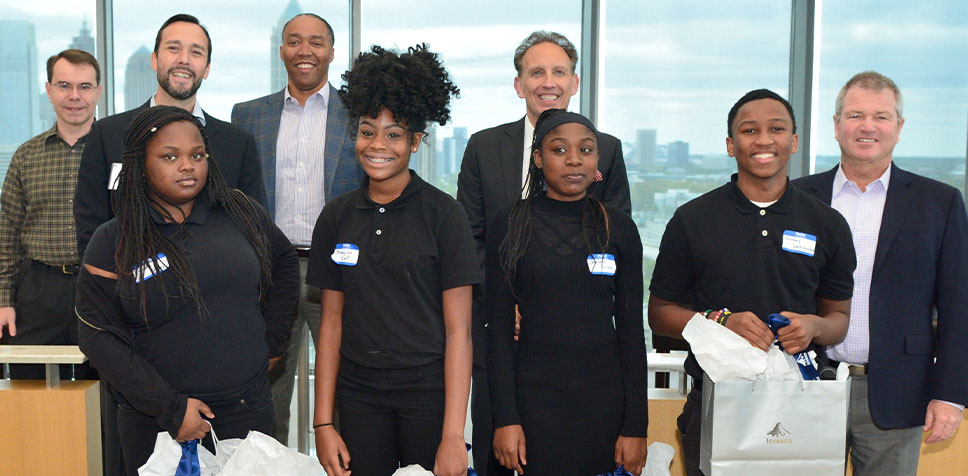 Education
support
Improving financial literacy
Financial inclusion and literacy protects consumers and fosters financial stability, benefiting both individuals and entire communities. For many, financial literacy can help break the cycle of poverty and lead to financial stability. Still, in the U.S. many people, particularly in underserved communities, lack access to financial literacy education or information on personal finance. Invesco supports partnerships that promote financial inclusion and literacy so that more people can learn these important skills. These partnerships also help promote understanding of how to pursue a career in investment management.
Our financial literacy partnerships and programs include:
Junior Achievement of Georgia
In 2020, Junior Achievement (JA) and Invesco collaborated on a dynamic learning experience designed to enhance sixth-grade students' financial literacy. Invesco created an interactive storefront in JA BizTown in Atlanta in which students interact within a simulated economy and take on the role of employee and consumer for an assigned business. By the end of the simulation, each student completes a day's work, develops a personal budget and makes purchasing decisions, giving them an authentic and relevant experience in business. Additionally, Invesco partners with 3DE by Junior Achievement. This partnership infuses business connectivity into all aspects of learning to deepen students' understanding of business concepts.
Workshops in Japan
This year Invesco employees in Japan organized online sessions targeting 10- to 15-year-old students, explaining the history and role of money, and its impact on our life and society. Students used social media-style chat functions, took quizzes and actively participated in two-way communication with the lecturers. The event is a part of "Kids' Workshop 2020" which Invesco's Tokyo office hosts every summer.
Rock The Street, Wall Street at Stuyvesant High School and Grady High School
Rock The Street, Wall Street supports the development of financial literacy programs for high school girls, providing programming that connects girls with female finance professionals who teach investing and budgeting in a classroom-based setting and provide mentoring opportunities. Through our corporate sponsorship, now in its third year, female executives from across Invesco's investment, strategy, marketing, distribution and real estate teams lead weekly classroom-based workshops with Stuyvesant High School and Grady High School girls. These executives also meet regularly with the girls as part of the ongoing mentorship element of the program. Students who participated in the program reported a 68% increase in financial literacy, with 93% of students indicating that they are likely to pursue a major or minor in either finance or economics. Our partnership went virtual in 2020, and in 2021 we will add a third school partnership in Houston.
Training
Tomorrow's
Leaders
Invesco sponsors several initiatives geared toward training tomorrow's investment leaders, increasing interest in a career in asset management and building relationships with future talent. These programs include: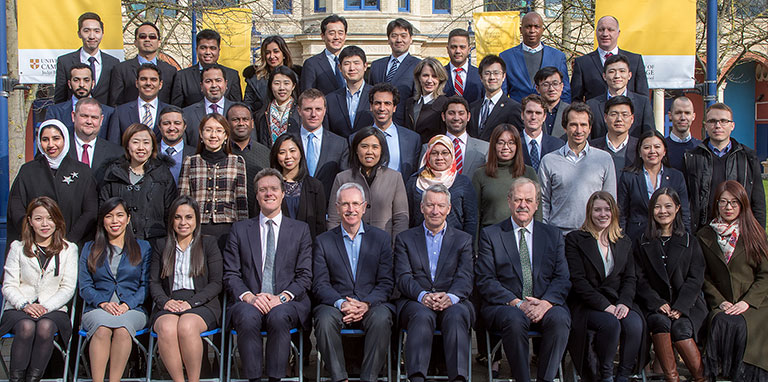 Invesco's summer internship program
Our annual summer internship develops investment skills among university students. We conducted the program virtually in 2020, giving students opportunities to participate in ESG-related projects with our EMEA responsible investing team, as well as projects related to climate risk scenario analysis, portfolio modeling, accounting and financial planning and analysis. Additionally, we support Girls Who Invest internships every summer in our NYC office.

Cambridge Judge Business School
Invesco is in the third year of a 10-year collaboration with Cambridge Judge Business School (CJBS). Through this relationship, we support research activities in long-term asset management, alternative finance and data-analytics—all while Invesco's clients benefit from access to cutting-edge insights and research from a globally renowned business school. Highlights of our partnership so far include:
50 Invesco client events attended
by CJBS experts, reaching 2,000+ Invesco clients globally
20+ thought leadership items for collaboration
Six studies published by CJBS's
Centre for Alternative Finance through funding from Invesco
Six global consulting projects supported, providing opportunities for 30 MBA and MFin students
Numerous collaborations relating to climate risk, sustainable investing and environmental, social and governance (ESG) investing initiatives

Georgia Institute of Technology
Invesco partners with the Scheller College of Business located at the Georgia Institute of Technology (Georgia Tech) through their Financial Services Innovation Lab, which was established to serve as an interface between the financial services industry and Georgia Tech faculty and students. This collaboration supports financial literacy and increased dialogue regarding the challenges, disruption and opportunities in the asset management industry. In 2020 Invesco also entered into a three-year relationship with Dr. Sudheer Chava, Director of the Quantitative and Computational Finance Program (QCFP) at Georgia Tech. The program is focused on providing a foundation in qualitative skills for complex mathematical modeling, coupled with a practical understanding of finance theory. This rigorous combination ensures that students develop proficiencies in programming languages and modeling techniques, thus preparing them for a career in investment management. By engaging with Dr. Chava's QCFP Master's program, Invesco has an opportunity to identify talent and develop relationships for future opportunities.