Responsible Sourcing


Conflict Minerals
Signet has a well-established history of leadership in the ongoing effort to ensure responsible sourcing of conflict-free precious metals and gemstones. Conflict-free means that these resources are used in a manner that is respectful of human rights. We continue to be one of only four listed corporations and the only jewelry company that has submitted an independently audited annual Conflict Mineral Report (CMR) for the past six years to the US Securities and Exchange Commission (SEC) under the provisions of the Dodd-Frank Act.
Signet continues to support key legislation and processes that strengthen transparency and integrity in the trade of conflict-free minerals. As an example, Signet works through the World Diamond Council to support the Kimberley Process Certification Scheme (KPCS). This joint government, industry and civil society initiative has been highly successful in stemming the flow of conflict diamonds used by rebel movements to finance wars against legitimate governments.
Compliance with SRSP for Diamonds (D-SRSP)
The complexity of our supply chain mandates the implementation of very detailed policies and constructive engagement with all suppliers to ensure transparent sourcing. The SRSP Appendix for Diamonds applies to all diamonds supplied to Signet, including loose, rough, and polished diamonds, as well as diamonds set into finished jewelry. The SRSP is designed so that suppliers can report diamond sources relevant to their position in the supply chain:
The majority of diamonds that Signet sources come in the form of finished jewelry. To account for the diversity in supplier business models and diamond types, the D-SRSP asks suppliers to identify all diamonds supplied to Signet by any of four diamond categories:
Any Signet supplier who is not compliant with the D-SRSP is required to work with our Responsible Sourcing team to achieve compliance or risk losing their status as a Signet supplier.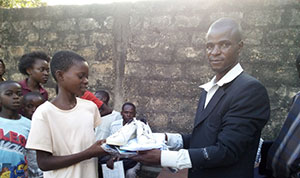 Education support in artisanal diamond communities
Artisanal mining for diamonds is an important source of livelihood for people living in some of the poorest regions of the world. Yet, when entire families seek work at remote mines, children do not get access to education. This is why Signet has renewed its commitment to the second phase of the Diamond Development Initiative's (DDI) Sending Schools to Kids™ program. DDI's High School Support Program is designed to be a Phase II of the mobile schooling program in artisanal diamond mining communities. At the end of the two-year remedial program, 100% of the students passed their national exams and qualified themselves for entry into high school. With Signet's support, DDI will continue to accompany the students through their academic journeys.
Taking a stance on human rights in Myanmar
In 2017, Signet voluntarily reinstated a ban on rubies originating from Myanmar (formerly Burma), due to reports of human rights violations in the country. During 2018, we went a step further after media reports of human rights violations concerning the Rohingya people in Myanmar, as well as the report from a fact-finding mission of the United Nations Human Rights Council. Signet gemstone suppliers were contacted and asked to provide more details and due diligence on their supply chains to determine if, in addition to rubies, there were any other gemstones that might originate from Myanmar. Once Signet was provided with the information, we worked with suppliers to ensure that no materials originating from Myanmar were present in their inventory or supplied to Signet.
Signet recognizes the potential economic development benefits of gemstone mining. Accordingly, we may be prepared to sell Myanmar-sourced rubies once they are produced within the framework of our OECD Due Diligence Guidelines-based sourcing policies. The return to sourcing would occur once it is determined that there is adequate substantiation that Myanmar-sourced rubies align with Signet's responsible sourcing policy. To make this determination, the Signet Global Jewelry Supply Chain Committee will evaluate public statements from the following government and non-governmental organizations:
United Nations High Commission on Human Rights

United States Department of State

Foreign and Commonwealth Office of the United Kingdom

Human Rights Watch

Amnesty International

Global Witness
*Section 2B: Due Diligence Measure Performed is audited.