People


Engagement
Signet can only achieve our mission if our team members are engaged, invested and committed to living our core values on a daily basis. To encourage team members to engage in person and online, we held the #CoreValues Challenge in 2018. Team members were invited to share their passion for Signet's five core values by posting video submissions on our Workplace by Facebook platform. Hundreds of team members from across the US and Canada participated in the challenge.
Rewards and recognition
Every year, Signet's Best Incentive Trip recognizes the extraordinary efforts of team members who go beyond our core values in delivering exceptional client service.
Shine with Signet Rewards and Recognition intranet enables team members to send peer-to-peer recognition and celebratory e-cards and anniversary milestone award certificates on a daily basis. In 2018, team members sent over 1,750 recognition badges, 5,500 e-cards and awarded more than 2,500 milestone anniversary certificates.
" Embodying our "People First" Core Value means we appreciate the contributions of all Team Members, value diversity and inclusion, and find joy in delivering our mission. "
– Mary Liz Finn, Chief People Officer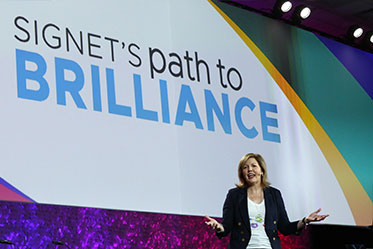 SigExchange
In 2018, Signet launched a TED Talk styled event called SigExchange. The aim is to bring together internal thought leaders to share concepts and passions, as well as to facilitate interactive dialogue and activities. The inaugural event's theme, Signet's Culture of Leading, was supported by sharing ideas around four behaviors: diversity and inclusion, development, entrepreneurial mindset and leadership ability. Signet CEO Gina Drosos opened the event with a video message in which she explained that "Culture is the fabric of an organization. A Culture of Leading helps others to get engaged with our mission." SigExchange events are held live and videotaped so that all Signet team members can benefit from these unique learning opportunities.