During the following two decades, the Company invested to improve the product offering, distribution and manufacturing infrastructure to extend that leadership position in the U.S. market, become a leader in the Mexican market and expand our global footprint. The 2013 Marazzi acquisition established Mohawk as the largest tile producer in Europe and subsequent investments enhanced our capacity and product innovation. Additional acquisitions enhanced our position in Europe, and the 2018 purchase of Eliane gave us a leading position in Brazil, the world's third-largest tile market. In 2020, the worldwide ceramic market was 173 billion square feet. Mohawk has 2% of that fragmented market, and we are investing to grow our share.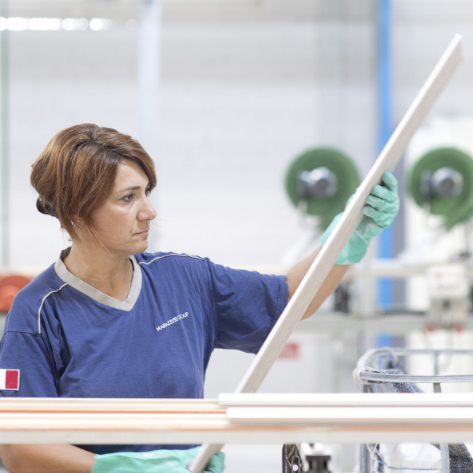 What We Make
Floor Tile
Wall Tile
Mosaic Tile
Porcelain
Slabs
Quartz
Countertops
Stone Slabs
Major Distribution Channels
Specialty
Retailers
Company Owned/
Franchised Stores
Home
Centers
New Home
Construction
Commercial
Investing in the Best
For two decades, Mohawk has acquired the premier tile manufacturers in the most desirable markets and then improved on their performance through strategic investments that elevated their manufacturing assets, gave their talented designers access to proprietary technology like our digital inkjet printing, and shared training programs and resources across the segment. We acquired the best businesses and made them even better by investing to reinforce their strengths and mitigate the challenges they faced.
Continued Commitment
Going forward, we are expanding tile capacity in markets where demand for our products has escalated. In Europe, we are targeting investments in high-value porcelain slabs with multiple applications as well as thick porcelain pavers used as an alternative to stone in landscaping. In the U.S., our quartz countertop production has been a successful greenfield launch, and we are investing to expand our capacity as we grow the business through many of our tile partnerships. In Brazil, we are adding a new porcelain tile facility; and, in Mexico, we are expanding production of mosaic tile and specialty products.
Opportunities
Having built our tile business through acquisitions and improved it through perpetual investment, we continue to seek appealing acquisition opportunities in markets where we already have a strong presence or new geographies to expand our footprint.