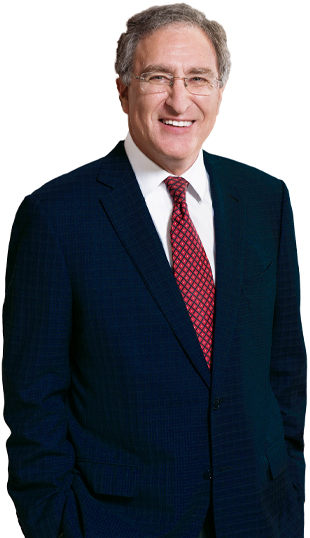 To Our
Shareholders
Jeffrey S. Lorberbaum
Chairman and Chief Executive Officer
In an exceptional year, Mohawk delivered significantly improved results that underscore the Company's fundamental strengths: the scope of our products and geographies, strategic internal investments in growth categories and our talented team's ability to optimize the business' performance. While we are proud of our 2021 results, we are focused on actions that will support increased sales and profitability for the long-term.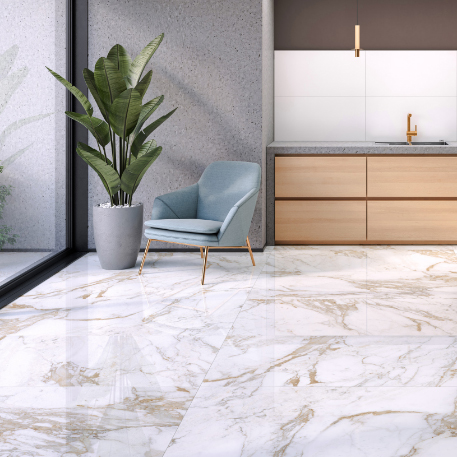 Results That Reflect Our Strengths
In 2021, we achieved our highest annual net sales, $11.2 billion, and each of our segments recorded their highest annual net sales. Our adjusted EPS1 of $14.86 was the highest in the Company's history, and our adjusted EBITDA
Footnote 1: Reconciliation of GAAP to non-GAAP financial measures begin on page 92 of the 10-k section of the annual report. rose to more than $1.9 billion. Our operating margins expanded dramatically to approximately 12%, even with significant material, energy, labor and transportation inflation; and our adjusted operating income Footnote 1: Reconciliation of GAAP to non-GAAP financial measures begin on page 92 of the 10-k section of the annual report. approached $1.4 billion. Compared to our 2019 pre-pandemic results, we produced 12% organic sales growth and improved our adjusted margins by 270 basis points.
During 2021, our regions benefited from strong housing markets supported by rising home prices, favorable interest rates and accelerated housing purchases by millennials. Changing lifestyles encouraged shifts from rental to owned properties, movement to larger homes and remodeling upgrades to adapt to work, school and recreation at home. The appealing designs and innovative features of our products made them popular choices as residential remodeling accelerated, a trend that is projected to continue throughout 2022. The commercial sector improved over the prior year but has not yet reached pre-pandemic sales levels.
Throughout 2021, we delivered product innovation, leveraged our logistics strengths as a competitive advantage and executed multiple price increases to pass through material, energy and transportation inflation across all products and geographies. The greatest inflationary impact was felt in Europe, where natural gas prices accelerated at an unprecedented pace. While inflation was the most notable headwind of 2021, we also managed labor shortages with enhanced training, process improvements and strategic automation where possible. We creatively addressed material supply shortages through product re-engineering, SKU rationalization and improved production planning. All our segments responded effectively to the complexities that occurred throughout the year, and we are proud to have achieved our results despite these challenges.
Investing with Financial Strength
Mohawk ended 2021 in a strong financial position with our net-debt leverage at a historical low of 0.9x adjusted EBITDA
Footnote 1: Reconciliation of GAAP to non-GAAP financial measures begin on page 92 of the 10-k section of the annual report., and our liquidity remains advantageous at approximately $1.8 billion. During the year, we bought approximately 4.9 million shares of Mohawk stock for approximately $900 million as part of our stock repurchase program. In February 2022, the board of directors approved an additional authorization for share repurchases of $500 million, reinforcing our confidence in the Company's strength and further enhancing shareholder return. Our strong financial position affords us the flexibility to pursue opportunities that create value for our shareholders, including additional internal investments, acquisitions and stock purchases.
Adjusted EBITDA

in millions
Investing for Future Growth
Our Flooring North America Segment has benefited from strength across product categories, strong customer relationships in all selling channels and industry-leading product innovation. LVT remains the fastest-growing flooring product in the North American market, and our LVT sales grew significantly during 2021 as the performance of our existing LVT facility improved. As LVT imports were constrained by shipping bottlenecks, the advantages of domestic production were reinforced to the market. To better meet customer needs, we are starting up a new LVT operation to support sales of more than $160 million. Installation of the plant's first equipment began in the first quarter of 2022, and the project will be completed in phases through the second half of 2023. Once all planned lines are fully operational, the site can be expanded further as needed.
Mohawk is the leader in the North American laminate market, and we have reinvigorated the product category with improved visuals and waterproof performance. All sales channels are expanding use of our premium laminate, and we are increasing our capacity to support $300 million of additional sales. The first expansion phase started up in the fourth quarter of 2021, and the second phase will follow in 2023. The new production lines will have capabilities to produce the next generation of proprietary laminate to extend our leadership in the category. In addition to these capacity increases, we are also implementing many cost-saving investments, including fiber manufacturing and transportation projects, that will improve productivity and profitability within the segment over the next two to three years.
Mohawk is the world's largest producer of ceramic tile, and with our advantages in design, manufacturing and distribution, we are well positioned for significant growth in our markets where ceramic tile is the dominant residential and commercial flooring. In Brazil, we are constructing a new porcelain tile facility that should be fully operational by the end of next year. In Mexico, we are expanding our manufacturing of mosaics and specialty products, while allocating more of our ceramic production to the local market. In Europe, we are adding capacity to expand our high-value porcelain slab business and enhance our successful outdoor and specialty tile businesses. In the U.S., we are investing to grow our quartz countertop production to keep pace with rapidly increasing demand. We have suspended the previously announced capacity expansion in Russia given the changes in the environment. Collectively, these investments should support additional sales of approximately $300 million when all the lines are fully operational.
Our Flooring Rest of the World Segment has grown sales across its markets based on developing innovative value-added features that consumers prefer. Our laminate's unique style and performance have made us the market leader in the premium category, with our waterproof products increasing in popularity across all sales channels. Demand has grown as home renovation increased during the pandemic, and in response to rising orders we expanded our laminate press capacity last year. We are executing our next laminate manufacturing expansion, which will support additional sales of approximately $150 million when production is fully operational at the end of 2023.
Our recently acquired French MDF facility will complement our existing operations, enhance our product offering and strengthen our regional position. Our 2021 purchase of an insulation manufacturer with plants in Ireland and the U.K. aligns with our existing operations in those countries and will increase our share in the polyurethane insulation market. During the second quarter of 2022, we anticipate completing the purchase of a wood veneer manufacturer, which will improve the costs and quality of our engineered wood floors and make our operations more sustainable. To enhance these acquisitions, we will upgrade their assets and refine their processes. When integrated, these purchases will enhance our present operations, expand our markets and reduce our costs.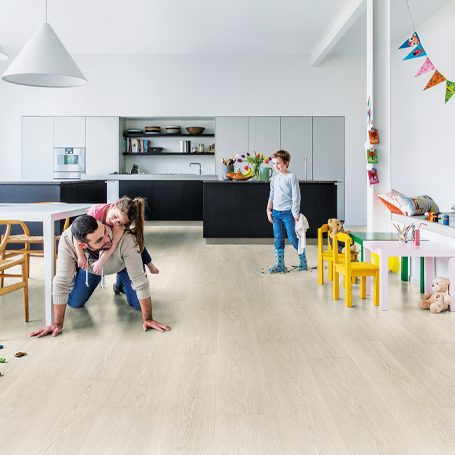 Near-Term Expectations
After a record-setting 2021, we are optimistic about Mohawk's future growth and profitability even with the challenges of inflation, supply chain disruption and the Ukrainian crisis. In most of our markets, residential sales are expected to remain strong with commercial improving. The Eurozone may face greater short-term economic pressures than the rest of our markets, though solid GDP growth is still forecast in the region in 2022. As countries address inflation, interest rates will rise but should remain historically favorable and support continued home sales and remodeling. Significant material, energy and transportation inflation is affecting all our businesses and may continue to be impacted by the invasion of Ukraine. We are re-engineering formulations, reducing spending and improving efficiencies to offset these pressures. We began 2022 by implementing another round of pricing actions and have announced additional increases across our products and geographies. We will continue to adjust pricing as necessary to protect our margins. We are selling all our capacity in many product categories and are focused on optimizing our mix and margins in 2022. With multiple expansion projects underway, we expect to increase sales in these growth categories this year and beyond.
Long-Range Optimism
Flooring is an essential component of new construction and remodeling. As the world's largest flooring manufacturer, Mohawk has built leading positions in key markets around the globe. In most of our markets, we expect our business to benefit from continued strong demand through this economic cycle. Given the low housing inventory in our markets, new residential construction and remodeling should remain robust for years. Mohawk's sustainable products appeal to today's environmentally conscious end-users, which gives us an added advantage in our markets and enhances our bottom line. In time, we expect the commercial sector to return to its historical growth with pent-up demand representing a significant opportunity. In addition to expanding capacity, we continue to invest in our organization's talent and state-of-the-art technology to deliver exceptional design, value and service to our customers. In general, over the next three years, we anticipate higher sales as we implement our product manufacturing and marketing initiatives while we focus on optimizing our margins. We will continue to leverage our strong balance sheet to pursue acquisitions that further our geographic reach and product offering.
During the past three decades, Mohawk has executed transformational acquisitions that added new product categories to our portfolio and introduced us to new markets. We have created substantial organic growth by investing in product innovation, industry-leading technology and talented people. We are investing now to create even better results over the next several years. We will see some benefit from our expansion projects in 2022 and even more in the years that follow. We appreciate your continued support as we invest to deliver the best possible returns for the near and long term.

Jeffrey S. Lorberbaum
Chairman and Chief Executive Officer
April 1, 2022
Footnote 1:

Reconciliation of GAAP to non-GAAP financial measures begin on page 92 of the 10-k section of the annual report.