Strength
Where It
Matters
Inside One of the World's Best Places to Work
Throughout 2020, Hilton's Team Members remained on the front lines of the COVID-19 pandemic, spreading the light and warmth of hospitality to essential workers and guests all around the world – at a time when it couldn't have been needed more. To support and protect our Team Members through this challenging year, Hilton offered new resources, implemented training and safety protocols, strengthened our commitment to diversity, equity and inclusion, and advocated for COVID-19 relief.
Our Award-Winning
Culture
#1 Best Company to Work for in the U.S. 2020
#3 World's Best Workplace in 2020
#1 Best Place to Work for Women in the U.S. 2020
#2 Best Place to Work for Parents in the U.S. 2020
Best Workplaces in Retail and Hospitality in Canada
#2 on DiversityInc's Top 50 Companies for Diversity
Ethisphere's 2020 World's Most Ethical Companies
100% Score on Human Rights Campaign Equality Index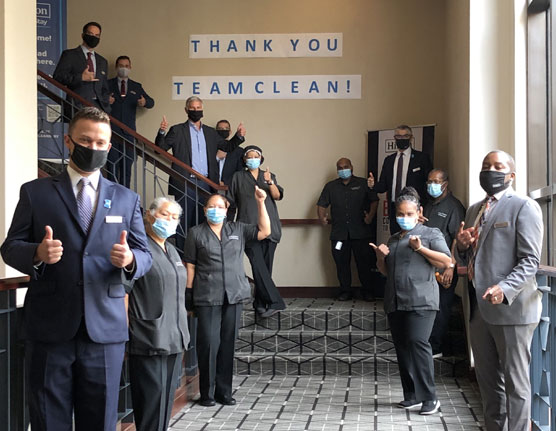 Diversity, Equity & Inclusion
How We're
Transforming

Our Workplaces
At Hilton, we have a long legacy of embracing diversity and inclusion. We were founded on the belief that travel could be a bridge to world peace – that through hospitality, we could bring people together to celebrate different cultures and backgrounds. In addition to the health and economic challenges brought about by the global pandemic, the past year has also served as an awakening to the realities of racial and societal injustice. As we have been doing for many years, we listened to our Team Members and guests and looked to this period as an opportunity to continue taking meaningful, long-term action against systemic racism.
We shared some of the many commitments we believe will help us continue to be a more inclusive workplace, including:
Adopting measures that will ensure diverse leadership candidates, and further increase the diversity of Hilton's Board of Directors
Driving continued progress and accountability toward our global representation goals
Expanding Unconscious Bias and Inclusive & Respectful Workforce training for all Team Members
Launching a Courageous Conversations series to encourage corporate Team Members and General Managers at our properties to have regular conversations about race
While we have been on this journey for many years, our work here is never done. We will continue to listen to our Team Members, guests and the communities we serve around the world and constantly revisit how we can advance our commitments.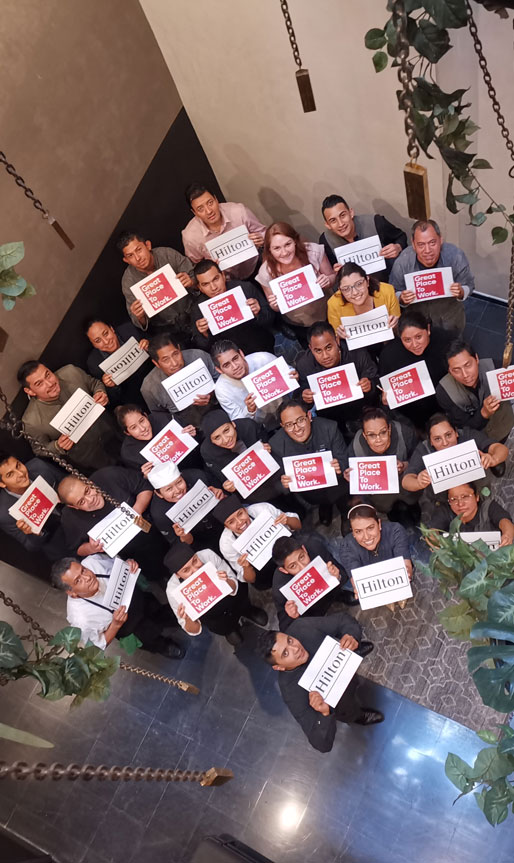 Image taken before the COVID-19 pandemic
Being Part of the
Solution


Advocacy for Our Owners and Team Members

Hilton worked tirelessly to engage directly with governments around the world to shape COVID-19 relief legislation and advocate for targeted aid for the hotel industry. The work we have done has been in partnership with the travel and tourism industry; however, we have especially advocated for our Team Members and hotel owners who have been most heavily affected by the COVID-19 pandemic. In the U.S., we were able to secure access to the Small Business Administration's Paycheck Protection Program for our owners, allowing them to apply for forgivable loans on an individual property basis, which proved to be a lifeline for many of our hotels. Additionally, we secured employee retention tax credits and enhanced unemployment benefits to help retain Team Members and support those who were affected. We will continue to advocate for additional liquidity for owners and support for Team Members as we work to help ensure a speedy recovery for the hotel industry.