Strength
Where It
Matters
Positive Social and Environmental Impact
As one of the world's largest hospitality companies, Hilton recognizes the important role we play in protecting our communities and the planet for future generations. Despite the challenges presented by the COVID-19 pandemic, we remain fully committed to creating long-term value for our business and our stakeholders through our Environmental, Social and Governance (ESG) practices. We drive responsible travel and tourism globally through our Travel with Purpose strategy and Hilton Effect Foundation. We believe that as the world recovers, the need for environmental and social leadership will be greater than ever, and we are committed to making a difference.
Amplifying
Our Impact Through
Critical Partnerships
Partnerships were more important in 2020 than ever before. We continued to promote responsible, sustainable travel by:
Partnering with organizations to drive COVID-19 and natural disaster recovery, including World Central Kitchen, Direct Relief, Project HOPE, Meals on Wheels and Open Kitchens UK
Supporting nonprofits on the front lines of the fight for racial justice, including the NAACP and National Urban League
Contributing to the re-launch of the Sustainable Hospitality Alliance, harnessing the collective action of the hotel industry to drive positive impact at scale
Maintaining our partnerships with leading anti-human trafficking NGOs, including ECPAT-USA and It's a Penalty
Joining with the Tent Partnership for Refugees and Human Rights Campaign to pledge to mentor LGBTQ refugees and asylum seekers
Hilton
Effect

Foundation Grantees

Launched in 2019 with the aim of creating a better world to travel, the Hilton Effect Foundation is our primary global philanthropic arm. In 2020, the Hilton Effect Foundation awarded 23 Hilton Effects Grants to organizations driving inclusive COVID-19 recovery and community resilience. The Hilton Effect Foundation's grants aimed to address some of the most urgent humanitarian needs arising from the pandemic: food security, sanitation/hygiene, economic security and clean air and water. Consistent with Hilton's commitment to respecting human rights, driving racial equality and promoting inclusive growth for all, the Foundation prioritized organizations addressing these needs, while also directly supporting minority populations and other vulnerable communities that have been disproportionately affected by the pandemic.
Supporting the

Communities

We Serve

Though the hospitality industry was heavily impacted by the COVID-19 pandemic, Hilton was in a unique position to help those in need. Our hotels and corporate offices around the world sprang into action to help those affected by the pandemic.
Helping Our Frontline Medical Heroes
In partnership with American Express and our ownership community, Hilton committed to donating up to 1 million hotel room nights across the U.S. to frontline medical professionals leading the fight against COVID-19. Rooms were made available to doctors, nurses, EMTs, paramedics and other frontline medical staff who needed a place to sleep, recharge or isolate. Additionally, through a $1 million contribution from American Express to José Andrés' World Central Kitchen (WCK), we partnered to provide healthy, freshly prepared meals to the frontline healthcare professionals who stayed at participating Hilton properties in cities across the United States during the coronavirus pandemic.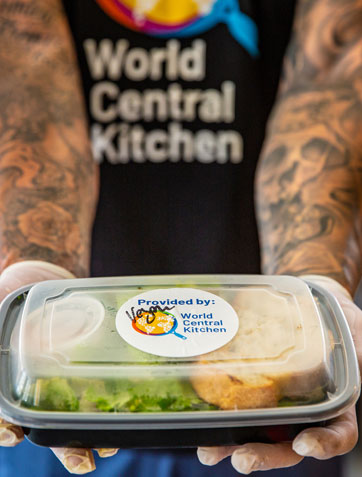 Getting Supplies to Those in Need
When the pandemic hit, our hotels and corporate offices around the world worked to identify local organizations and communities in need, and quickly deployed their services. The Hilton Buenos Aires donated breakfasts to medical staff at a local hospital. Our hotels across Southeast Asia and India upcycled linens to make face masks through Diversey's Linens for Life Face Masks Program. Corporate Team Members assembled more than 15,000 Clean the World hygiene kits for organizations in Memphis, Dallas and Washington, D.C. And members of our Hilton Reservation and Customer Care team used their customer service skills to connect with homebound seniors in partnership with Meals on Wheels.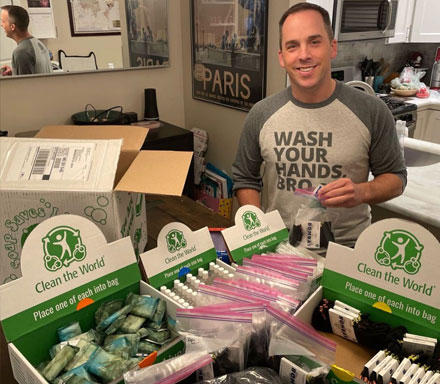 Responding to the Beirut Port Explosion
On August 4, 2020, Beirut witnessed two major explosions near its port. The explosions leveled hundreds of buildings, killed more than 100 people, injured more than 5,000 and created a significant food supply issue across the city as 85% of food was imported through the port. Within hours, we were able to support our Hilton Team Members on the ground by opening up our Team Member Assistance Fund to those impacted by the explosion. We also began working quickly to provide food packages to those in need, and we offered much-needed aid to the surrounding communities, including supporting World Central Kitchen's efforts to feed the impacted communities. The Hilton Effect Foundation, working with local partners, also provided support to a youth medical ward that had been destroyed.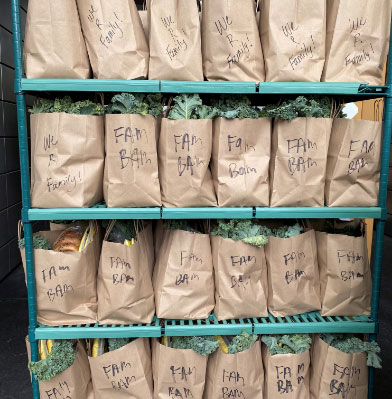 Opening Our Kitchens and Reducing Food Waste
As demand from restaurants and caterers dwindled during the pandemic, food rescue organizations were faced with a surplus of donated bulk food and increasing community needs, but limited storage and preparation capacity. To help solve this problem, five of our hotels in the U.K. partnered with Open Kitchens to store and distribute food to those in need. The Hilton London Metropole, Hilton's largest hotel in the U.K., served as a community kitchen, and in 2020 the hotel's chefs prepared over 30,000 meals for distribution to the homeless, children who rely on free school meals, the elderly and those living in isolation.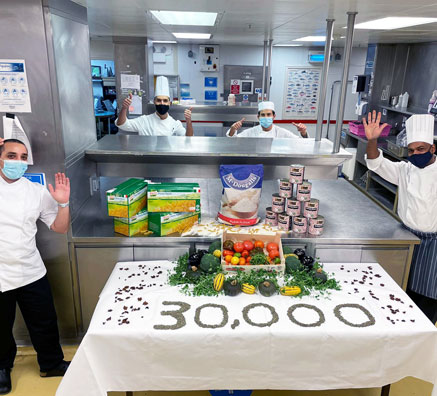 Highlights
Since 2008, we have reduced our impact*:
Carbon emissions -56%
Energy consumption -47%
Water usage -47%
Landfilled waste -73%
*Improvement in these measures is partially attributable to the reduction in system-wide occupancy as a result of the COVID-19 pandemic.
Reducing Our Environmental Footprint
In 2020, we experienced a significant decrease in utility consumption across our global portfolio, primarily as a result of reduced occupancy and complete or partial suspension of operations at our properties. We worked with our hotel teams to deploy operational best practices that further reduced our environmental footprint in times of low occupancy. In alignment with our science-based targets, we also took several steps to increase our sourcing of renewable energy at our hotels around the world. We also maintained our portfolio-wide certification to ISO 9001 (Quality Management), ISO 14001 (Environmental Management) and ISO 50001 (Energy Management), one of the largest ISO-certified building portfolios in the world. As travel returns and our hotels re-open for business, we will continue to reduce our footprint in line with our Travel with Purpose 2030 Goals.
Living our Hilton Values
In the wake of several acts of egregious racially motivated violence in 2020, Hilton condemned racism and discrimination in all forms, and encouraged our Team Members to stand up against social injustice. In addition to the steps that we took internally to strengthen our Diversity & Inclusion programs and support our Team Members, the Hilton Effect Foundation provided grants to nonprofits on the front lines of fighting for racial justice, including the NAACP and the National Urban League. Hilton Honors members were also invited to donate their Points to the social justice charities of their choice.
Highlights
#1 Global Industry Leader on the Dow Jones Sustainability Indices for the past two years
$1M+ Donated in support of COVID-19 community response
124,500 Team Members trained in
anti-human trafficking

1.6M+ Team Member volunteer hours since 2017