Overview


Charitable Giving

A

s a business, we are only as strong as the communities in which we operate. Engaging in our local Support Center communities and with national charities not only aligns with our values and who we are as a company, but also makes strategic business sense. Our giving programs provide team members and customers with an opportunity to create deeper connections and build community spirit. In turn, this helps us support each other as team members, and reinforces our CUSTOMERS! core value.

We give team members and customers the flexibility to engage in causes they are passionate about by volunteering their time or contributing donations via an integrated approach. We concentrate our support toward organizations that focus on the well-being of underserved women and children. All charitable programs are governed by our Corporate Giving Committee, chaired by our CEO Gina Drosos.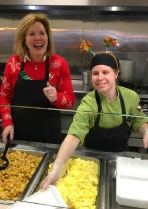 Signet has set two long-term charitable giving goals:
Increase and formalize team member engagement programs through empowered volunteerism activities, both in Field Operations and Support Centers.
Increase donations over time to 1% of pre-tax earnings to local and national charitable giving partners.