Innovation
Guest-centric innovation is in our DNA, and constant connection to our guests keeps us looking forward.
Scroll to learn more
Let's Get Together
Signia by Hilton is setting out to transform the meetings and events industry by offering travelers who value sophisticated design, inspiring meeting spaces, elevated food and beverage offerings and seamless technology integration a new place to come together. Developed based on feedback from meeting professionals, guests, owners and developers, Signia by Hilton delivers a premier experience from check-in to check-out. Take a tour of this game-changing brand here.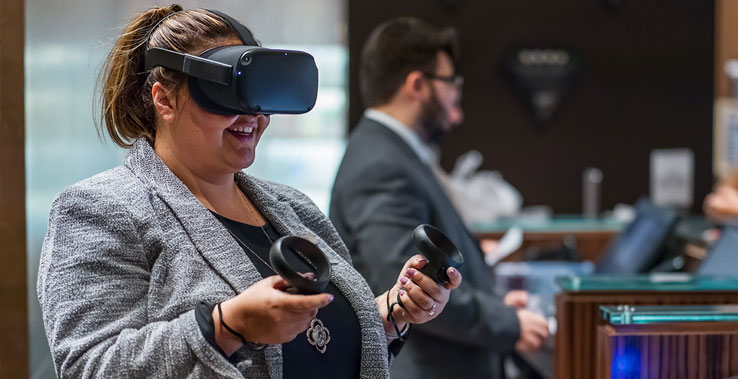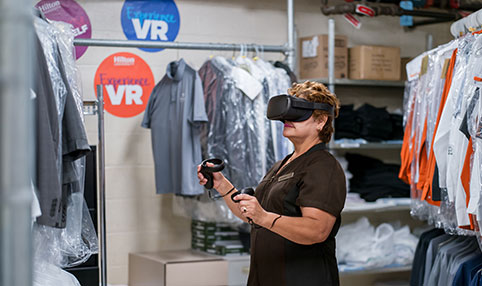 A More Intelligent Way to Learn
Teamwork and Ownership are at the heart of Hilton's values, so it is important for corporate office Team Members new to the hospitality industry to experience hotel operations in a way that provides a thorough understanding of the complex and physical nature of the roles and responsibilities of on-property Team Members. Hilton's Learning & Development team identified virtual reality as an effective way to create an immersion experience for new hires. Using VR goggles, Team Members can now move through different hotel departments, completing tasks including setting a room service tray and cleaning a guest room.
4,500
Team Members have used VR training as part of their onboarding and continued learning.
Redefining Loyalty
Hilton's guest loyalty program, Hilton Honors, is always looking for innovative ways to provide value, flexibility and personalization for its Members with the brands they love. In 2019, we added exciting new opportunities to earn and redeem Points including:
Lyft
First-of-its-kind partnership allowing Honors Members to earn and redeem Points when they ride with Lyft.
LiveNation
Renewed partnership with the world's leading live entertainment company to offer Honors Members access to tickets and exclusive music experiences through HiltonHonors.com/Experiences.

American Express
Reintroduced the Hilton Honors American Express Surpass Card and rolled out generous limited-time welcome offers for new Card Members in the height of the summer travel season. With one of the Honors American Express co-branded credit cards, new Card Members receive instant Honors status and have the ability to earn Bonus Honors Points on eligible Points.*
*Terms Apply


Customized Comforts of Home
Connected Room allows Hilton guests to control and personalize their stay from the palm of their hand, including television programming, lighting, temperature and more.
NETFLIX
SHOWTIME
iHeartRadio
At year end 2019, Hilton had more than 11,400 Connected Rooms across 76 hotels.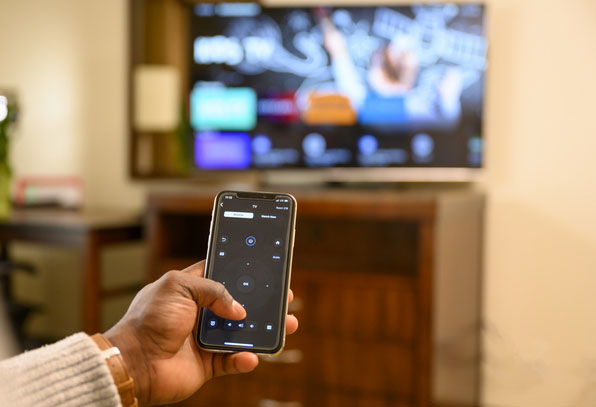 Out-of-This-World
Food & Beverage
At DoubleTree by Hilton, the simple gesture of offering a warm chocolate chip cookie at check-in has become synonymous with the brand's commitment to providing guests with a welcoming and comfortable stay. In 2019, we brought this signature hospitality to new heights when we sent our famous cookies into orbit to become the first food ever baked in space. Astronauts aboard the International Space Station (ISS) used the first space oven, designed by Zero G Kitchen, to bake the cookies as part of a landmark microgravity experiment. The experiment took place over several days in December 2019, and makes Hilton the first hospitality company to participate in research aboard the ISS. On this historic occasion, DoubleTree partnered with Scholastic to engage 140,000 students around hospitality, STEM and space through learning modules and contests. Learn more about the experiment here.