Membership at Sam's Club reached a record member count and Plus penetration increased about 500 basis points to an all-time high. This success is a result of offering great items at disruptive prices, digital convenience, and a special in-club experience.
Part of enhancing that special experience has been the Bold & Blue club remodels. This modern, minimalist look makes it easier for members to find the items they rely on as well as discover new exciting products.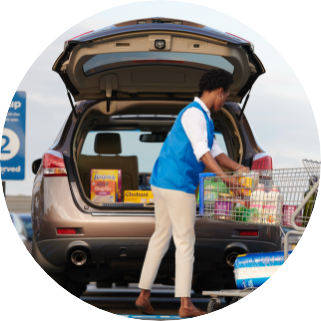 Members are also being introduced to ongoing digital innovations. The momentum we generated from Scan & Go continues with penetration increasing 460 basis points year-over-year. A recent offshoot of Scan & Go is Scan & Ship, which allows members to scan and pay for items in the club for delivery to their homes. Members find this especially convenient when purchasing big items, like TVs and patio sets that don't easily fit in a vehicle. Sam's Club also continues to excel at expanding member options to include curbside pick-up, delivery from club, and direct-to-home delivery.
Quality, price, assortment, and convenience are watchwords at Sam's Club. We leverage technology, streamline processes, partner with experienced merchants, and provide the right tools for our associates to do their jobs even more efficiently and thus spend more time serving our members. Membership is core to the club model, and we reached record high member counts last year as membership income grew 11.3 percent. It's easy to see how this 'member-obsessed' approach is fueling the momentum in our business.