Deliver better value to our customers through products that support recycling, reuse and repurposing of materials
Be better stewards of our planet through processes that lower our consumption of natural resources and reduce our environmental footprint
Ensure a better quality of life for our communities by partnering with non-profits that truly make a difference
Create better opportunities for our people and their families through good jobs and programs that support professional development and personal well-being
Better Numbers
We believe that doing what's right for our planet and the people with whom we share it is also essential for running a business. Ensuring the long-term success of Mohawk Industries aligns with our commitment to sustainable products and processes, which help us deliver numbers like these:
6.5 Billion
pounds
of waste
recycled
annually
7 Billion
plastic
bottles
recycled
annually
50
plants
certified
zero waste
to landfill
500+
product
collections
with recycled
content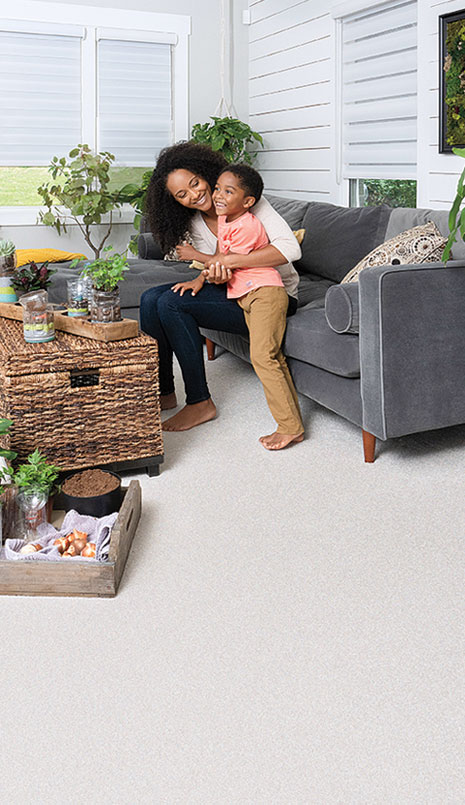 Committed to Environmental
Stewardship and Social Responsibility
Mohawk is committed to the sustainable use of natural resources, which includes reducing our water consumption by almost 450 million gallons over the past five years and producing green energy from wind, solar and biofuel sources.
Our use of recycled content extends to more than 500 product collections around the world, including our signature carpet and rugs made from recycled bottles. About 60 plastic water bottles yield a square yard of polyester carpet. We do much more than repurpose bottles, though. For example, each year we upcycle about 42 million pounds of tires into decorative crumb rubber mats. All of these actions collectively divert more than 6.5 billion pounds of material from waste streams annually.
We are also committed to sustaining our most valuable resource — our people. Our world-class safety initiatives continue to protect individuals at work, and our clinics and wellness coaching have helped thousands of people manage chronic medical conditions. For 15 straight years, Mohawk has been ranked in the Training Top 100, reflecting the learning and development programs that help our people fulfill their potential.
Mohawk also offers the industry's largest Red List-free product portfolio, as well as a Red List-free installation process.
All carpet tiles made with our proprietary EcoFlex Matrix, EcoFlex NXT or EcoFlex NXT AIR backing have achieved Living Product Challenge Petal certification, an industry first.
Our laminate and board production includes significant recycled wood content.
The spray dryer at our Tennessee countertop plant is the first in the world to be powered by energy-efficient microturbine engines.
Onsite wind farms at our plants now support up to 30% of the facilities' electricity consumption.
Even with 22 acquisitions since 2010, we have lowered waste-to-landfill intensity by 54% during that period.
We've expanded our wellness support with Healthy Care Teams, which include medical providers, registered dieticians, behavioral support providers and coaches who help employees achieve their health goals.
At the beginning of the Covid outbreak, Mohawk used its industrial sewing equipment to produce vitally needed medical gowns for healthcare providers.
Read Our 2019 Sustainability Report