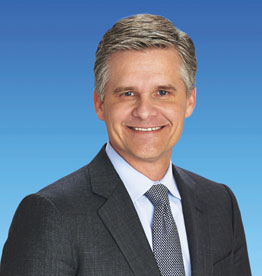 Brett Biggs,
Executive Vice President
and Chief Financial Officer
Wal-Mart Stores, Inc.
Change is sweeping through today's retail marketplace. Yet change is nothing new for our industry – nor for Walmart. For more than 50 years, we have been a disruptor in retail, tailoring our proposition to align with evolving customer preferences. To continue leading, Walmart is making significant investments in people and technology to deliver results for our associates, customers and shareholders.
We take these steps with confidence because Walmart is one of the strongest companies in the world, with a strong balance sheet and significant cash generation.
In fiscal 2016, Walmart generated revenue of $482 billion, operating income of $24 billion, operating cash flow of $27 billion and return on investment of 15.5 percent. Excluding more than $17 billion in currency impacts, revenue would have been over $499 billion. Looking ahead, we expect to add approximately $45 billion to $60 billion of sales on a constant currency basis in the three years ending in fiscal 2019, an amount equivalent to a Fortune 50 company.
However, running a healthy business sometimes requires sharpening the focus of the portfolio. After a thorough review of our stores from both a financial and strategic standpoint, we made the decision to close stores representing less than 1 percent of our global revenue and square footage. A key takeaway from this portfolio review was the health of our overall store base. During fiscal 2017, we project to add more than 300 new stores globally. We are a growth company.
Our great financial strength positions us to make the necessary investments in our business to drive sustainable long-term results, even as shareholders see a solid return on their investment.
During this past year, Walmart's financial strength allowed for shareholder returns in excess of $10 billion through dividends and share repurchases. Also, in February 2016, we raised our annual dividend for the 43rd consecutive year to $2.00 per share. I'm proud of Walmart's long record of shareholder returns.
Only Walmart can deliver a seamless shopping experience at scale, and we are strengthening our proposition for customers. Winning with stores is critical to our strategy. That's why the approximately $2.7 billion wage and training investment in our U.S. associates that was started in fiscal 2016 is not only the right thing to do for our associates, but it positions us to be a stronger company going forward.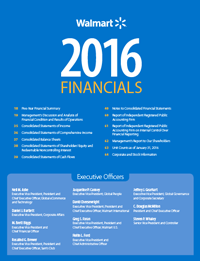 To review our 2016 Financials please download here.
We will continue to invest in our business, with capital investments of approximately $11 billion in fiscal 2017, including more than $1 billion in global e-commerce initiatives that will improve our technology and fulfillment capabilities to ensure that customers receive items efficiently and in a cost-effective manner. I'm excited that we are building one of the world's largest technology companies inside of one of the world's most financially strong companies.
As I conclude my first letter to you as CFO, let me thank you for being a Walmart shareholder. I am honored to serve in this capacity during this exciting time at Walmart. Our business is strong, and we are making the strategic investments to become even stronger. As a result, I'm confident that we will serve customers more effectively, drive sales growth and continue to deliver strong returns for our shareholders.
Sincerely,