MassMutual Is Building a Sustainable Future
At MassMutual, thinking and acting for the greater good is embedded in who we are. As a mutual company, we do business with the long-term interests of our customers and policyowners at the forefront of our mind. This focus on mutuality and longevity is fundamentally aligned with our commitment to sustainability, which means we can have big aspirations about how we can make an impact. Our vision to provide financial well-being for all Americans is not a goal we can accomplish tomorrow or achieve on our own, yet we are acting on it every single day to bring it closer to reality.
Elevating the Employee Experience with Holistic Resources
Mutuality is more than a business model, it's also a guiding principle for how we attract and retain exceptional people, and help enable their highest potential every day. Our approach is simple and intentional — we design programs, experiences, and physical and digital environments that support the holistic well-being of our employees and the people they love. That way, they have the tools to thrive personally and professionally, both today and as business and life situations change over time.
The COVID-19 pandemic only heightened our focus on holistic well-being, shining a spotlight on the need for more and better mental health resources, the importance of connecting in-person, and the benefits of work-from-home flexibility. Today, our hybrid model offers the best of both worlds — including spectacular campus settings for employees to come together, innovate, and work through complex challenges.
By taking a holistic and equitable approach to benefits, we make it easy for all employees and their loved ones to elevate their mental, physical, and financial well-being.
Our robust healthcare, retirement, and protection benefits provide a spectrum of support through all of life's big moments — and, over the years, we've expanded our pioneering leave programs so employees can better care for themselves and the people they love, in joyous and challenging times. When it comes to our leading caregiver, bereavement, and other essential leaves, "loved ones" is inclusive of anyone the employee holds dear, and they can use time off when and how it's most helpful to them.
Just like our workforce, we're always evolving. In 2022, we expanded medical travel reimbursement, added programs to help with student loans and college savings, and announced a significant benefit expansion for 2023. This included a new digital wallet that reimburses employees up to $1,250 for a wide range of holistic well-being expenses, new mental and physical health solutions, and quadrupling paid time off for employees who are also caregivers to a loved one.
In 2022, our employees:
Earned $1.27M in well-being incentives
Invested 460,000 hours in skill-building through our learning platforms
Engaged in a company-wide digital upskilling program, with more than 5,500 completing the training by year-end
Ensuring our business thrives in a rapidly changing environment also means investing in people's careers to amplify agility and innovation. Offered in person, virtually, and via online platforms, major learning initiatives in 2022 focused on digital upskilling (company-wide), our business, diversity education, and what it means to be a transformational leader.
Connecting Our Employees to a Culture of Diversity, Equity, and Inclusion
At MassMutual, we believe that business plays an important role in addressing economic inequities in our society. Our country is growing more diverse, as more than 50 percent of Americans under 18 identify as non-white, and Hispanics account for half of America's population growth in the last decade. At MassMutual, we are driven to ensure we're doing the best for our clients, workforce, and our communities. This includes being a diverse, equitable, and inclusive company that continues to challenge itself and improve.
Today, more than half of MassMutual's Board of Directors are women or people of color, making us one of the most diverse boards among Fortune 500 companies.4 We were also among the first in our industry to publicly share our progress against our DEI goals in our inaugural 2021 Sustainability Report. MassMutual's eight business resource groups (BRGs), representing over one-third of our employee base, are instrumental in fostering a culture where every employee feels like they belong. We continue to increase member engagement by providing safe spaces to have conversations about potentially polarizing topics and work to understand those who may have differing viewpoints.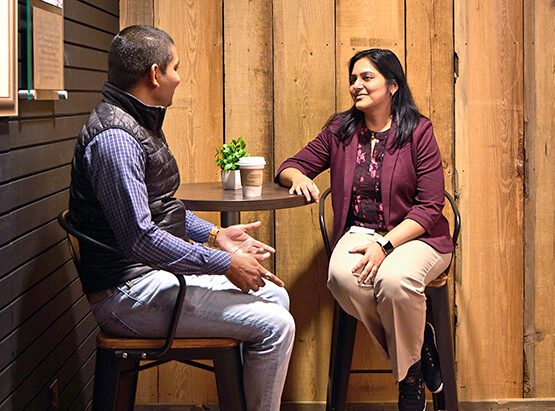 MassMutual Business Resource Groups
MassMutual's eight BRGs drive organizational results, increase employee engagement, and foster awareness, respect, and inclusion within the workplace. More than 30 percent of our employees participate in MassMutual BRGs, which are open to all employees.