Expanding Opportunities for Businesses
Catalyzing Innovation and Entrepreneurship
Tracking the pulse of emerging trends helps position
MassMutual for the future. That includes advancing
education in data science and using technology to help
meet the evolving needs of our customers and policyowners.
It also means doing all we can to advance diversity, equity,
and inclusion (DEI) in the pool of up-and-coming talent to drive
innovation, as well as strengthen the ecosystem of American business
and entrepreneurship.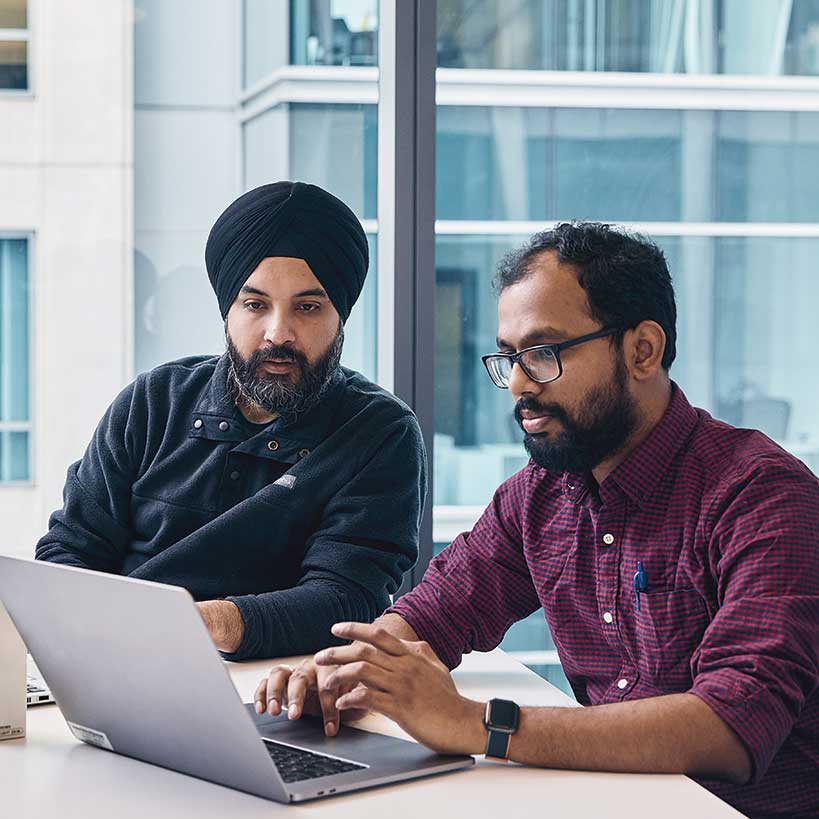 Expanding Educational Partnerships
Furthering MassMutual's long history of partnering with New England colleges and universities to advance data science programs, we pledged $1 million in 2021 to the Boston University Faculty of Computing and Data Sciences. The funding will be distributed over three years and will serve to blend academic and industrial capabilities by bringing real-world expertise to the classroom setting, backing a program manager and software engineer to lead experiential activities, promoting DEI in data science, and awarding six $10,000 MassMutual externship stipends to undergraduate students.
The new initiative joins MassMutual's growing list of higher education partnerships. Recent commitments include:
Donating, via the MassMutual Foundation, $15 million over 10 years to the University of Massachusetts Amherst, further strengthening the university's renowned data science and cybersecurity research and education programs.
Co-founding the MIT Future of Data, Trust, and Privacy initiative that helps members, including MassMutual, become leaders amidst a changing policy landscape by developing technical tools to manage new regulations.
Funding $5 million for the University of Vermont's world-class research facility to further advance research into applications of data science for human wellness.


Providing a renewed, $1 million, six-year gift through 2024 to Mount Holyoke College and Smith College — both established leaders in educating women — to hire five visiting faculty and support the development of a data science-focused curriculum.
These partnerships with academia increase access to innovators, expand recruitment opportunities with field-specific individuals, and provide a way to stay abreast of the most advanced knowledge in the space.
MassMutual Ventures invested in
14 new
portfolio companies in 2021.
2021 Boston FinTech Week
3,704
registrants
2,141
attendees
54
events with 265 average attendance per event (762 participants in most-attended session)
2,100
Twitter engagements
1,300
LinkedIn engagements
Strengthening the Business Ecosystem
MassMutual Ventures, our multistage, global venture capital firm, is an important vehicle by which MassMutual gains valuable insights into new trends, technologies, and solutions that are being developed throughout the world. Encompassing a diverse team of investment professionals, former entrepreneurs, and operators with deep experience in starting and scaling companies, MassMutual Ventures invested in 14 new portfolio companies in 2021. In addition, the team made follow-on investments in 14 of our existing portfolio companies.
The MassMutual Ventures team understands the challenges and pitfalls that startups face and leverages this experience by providing capital, connections, and advice to accelerate the growth of our companies. MassMutual Ventures' connection to MassMutual also gives entrepreneurs invaluable access to executives and teams across the company.
MassMutual's engagement with FinTech fosters innovation and thriving ecosystems that introduce new products and services to help consumers address their needs, on their terms. MassMutual has enjoyed success with its engagement in the MassChallenge FinTech and HealthTech global startup accelerator programs, where roughly 50 percent of startup partnerships have turned into real engagements, as customers, investors, or both. Several of the startups that MassMutual discovered through MassChallenge and invested in have subsequently launched, including Surround Insurance. MassMutual has recommitted as a Founding Member for the MassChallenge FinTech program and Champion Partner for the HealthTech program for another three years.
In 2021, Mike Fanning, Head of MassMutual U.S., and Mike Kennealy, Massachusetts Secretary of Economic Development, Co-Chairs of a FinTech Working group that is comprised of leaders from across the Commonwealth, launched the "Mass FinTech Hub." The Mass FinTech Hub's objective is to promote collaboration between startups, industry, academia, and nonprofits across the state with the overall goal of making Massachusetts a leading global FinTech Hub. Since the launch of the Hub on June 4, 2021, over 17,000 website hits were recorded with inquiries from all over the world including other prominent Hubs in Hong Kong and Australia. The Hub launched several high-value programs, including a FinTech Career Fair series to help top talent land career opportunities with startups and financial industry leaders, and boot camps to help educate students on FinTech. Additionally, FinTech Partnership Forums were launched, helping promote startup and corporate collaboration. Some prominent local FinTech businesses that are attracting attention from investors include Flywire, a payments firm that raised $250 million in its initial public offering (IPO); cryptocurrency firm Circle, which raised $440 million in new funding; and restaurant software provider Toast, raised $20 billion for its IPO in September 2021.
MassMutual also sponsored the fourth Boston FinTech Week in September 2021, which explored new technologies and new ways of doing business, with an eye on sustainable finance, inclusivity, environmental, social, and corporate governance, decentralized finance, and the post-COVID future.
For the sixth consecutive year, MassMutual hosted Data Days for Good, a multiday event where our data scientists and technical professional teams take time to partner with nonprofits or local organizations and apply data science principles to address social, environmental, and health issues.
And, as part of MassMutual's ongoing commitment to partnering with like-minded organizations that promote vibrant destinations to live, learn, and work, the MassMutual Foundation supports Inner City Capital Connections (ICCC) in bringing their program to entrepreneurs in Western Massachusetts. The tuition-free, 40-hour "mini-MBA" program combines executive education, webinars, and coaching delivered by top-ranking university professors and local experts. The focus of the program is to drive economic opportunity for small businesses, particularly those that are minority-owned in underserved communities. The program has a proven track record for success in helping small business owners build their capacity for sustainable growth and connect with capital sources to create local jobs.