Fundamental Focus:
Increase LVT sales with industry-leading design and performance
Expand sales and margins with differentiated products in all categories
Enhance competitive advantages with state-of-the-art manufacturing and distribution
Investment & Innovations
The breadth and depth of our North American flooring portfolio continues to grow. Spanning both hard and soft surfaces, residential and commercial customers can choose virtually any style, design and attribute available in today's flooring market. Recent innovations include SmartStrand ColorMax that provides a new level of stain resistance to complement unsurpassed softness; RevWood Plus that features proprietary waterproof wood technology; and Air.o Unified Soft Flooring that provides consumers with a hypoallergenic soft flooring along with faster and easier installation.
Stragetic Business Initiatives:
2016 - 2018
| Investment | Benefit |
| --- | --- |
| Premium Laminate Manufacturing Expansion | Produce proprietary surface textures with exclusive waterproof technology |
| Mexican Carpet Cushion Manufacturing Facility | Expand low-cost capacity for Southwest and California markets |
| Nylon Polymerization Plant Acquisition | Enhance vertical integration with nylon resin production |
| Rug Product Extensions | Introduce new product lines, including printed and outdoor rugs and industrial mats |
| LVT Manufacturing Plant #2 | Add new rigid manufacturing and product expansion |
| Carpet Manufacturing Expansion | Increase prorprietary recycled polyester carpet technology |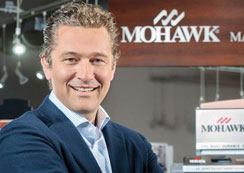 A Conversation with
Paul De Cock

President, Flooring NA
What sort of opportunity does Luxury Vinyl Tile (LVT) represent
for Mohawk?
LVT is an extremely attractive opportunity for Mohawk. The LVT category is currently growing at more than 20 percent per year. The multiple product variations, with different visuals and benefits, provide unique solutions for different consumer needs. Mohawk's expertise in other modular, clickable and floating hard surfaces offers us a unique opportunity to combine our best-in-class technologies into this variety of new platforms and outperform the market growth.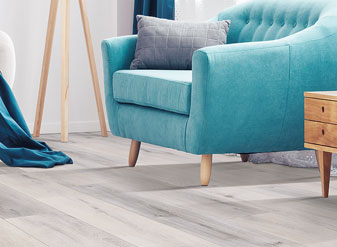 What accounts for the explosive popularity of LVT?
The LVT technology can mimic virtually any look and offers many attractive performance attributes: it's waterproof and affordable to install in comparison to other flooring surfaces.
What has been your strategy for building an LVT
presence in North America?
We like to participate in categories for the long term, and the best way to do so is through vertical integration. That's why we've invested in two state-of-the-art LVT manufacturing plants that will provide us with direct operational control of the complete LVT manufacturing value chain. We are complementing our manufacturing strategy with sourced products to round out our product offering.
Is Mohawk concerned that LVT is taking share from other categories?
Since we are a market leader in every flooring category, we win whenever a consumer selects a Mohawk product. LVT is re-igniting consumer enthusiasm for new flooring, and therefore ultimately it benefits Mohawk. As for category cannibalization, the product lines are blurred these days. Premium laminate now has water resistant features, and our new Pergo Extreme vinyl floors offer exceptional dent resistance whereas our Mohawk vinyl floors have an unprecedented pet proof warranty. Our goal is to offer all end-users a flooring solution that matches their needs. We know that hard surfaces have been taking share from soft surfaces for more than a decade, and we are excited about the opportunities to further grow our hard surface businesses.
Mohawk continues to be a market leader in its legacy carpet business. What opportunities are you pursuing in soft-surface?
We have a significant opportunity to grow share in North America, where we have some of the best manufacturing assets in the industry. Our brands have strong equity among both residential and commercial customers, and we possess an enviable product portfolio with innumerable proprietary technologies. We're using all of these strengths to capture a greater share of the soft surface market.
What other competitive strengths does Mohawk bring to the North
American market?
A critical and perhaps often underappreciated advantage is Mohawk's distribution capabilities. We can deliver flooring product to every corner of North America within 48 hours. It underscores the importance of our vertical integration strategy, which guarantees strong controls over virtually every phase of the value chain.
Flooring NA Fundamentals

A Leading Share of a Leading Market
Best-In-Class Distribution
Logistics
Sales Representatives
Trucks
Distribution Points
Multi-Channel Offering
Independent
Specialty Retailers
Five Star Aligned Dealers
Home Centers
Independent Distributors
Builder
Multi-Family
eCommerce
Mass Merchants
A $25.4 Billion Market