Progressing toward our aspirational goal
We have a responsibility to lead in the global transition to renewable energy. We're demonstrating that leadership by leveraging our size and scale to drive the production or procurement of 7 billion kWh of renewable energy by 2020. We're deploying a variety of technologies and power-generation strategies, including:
Distributed/on-site generation
Utility-scale/off-site generation
Grid-connected green power purchases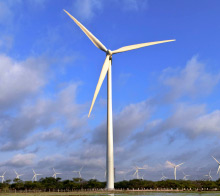 In 2011, we formed our Global Renewable Energy Committee to bring representatives together from all of our markets around the world, which has enabled us to share best practices and promote the adoption and expansion of related efforts. In 2013, we took a significant step forward, as Walmart International procured 1,637 gigawatt hours (GWh) of Walmart-driven renewable energy. That's more than double Walmart International's total from a year ago, with Mexico and the U.K. leading the way.
We believe the certainty and scale of our commitment will inspire the manufacturers of renewable energy technology to further invest and innovate, ultimately helping accelerate speed to market and lower costs for everyone.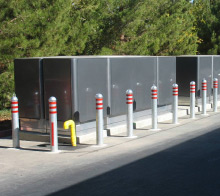 * Walmart-driven project initiatives the company voluntarily engages directly as owner or through contractual arrangements. This does not include renewable energy from the local electricity grid.
** Includes large off-site wind projects, smaller on-site projects and green power purchases, most of which are from wind projects.
Progress since our last report
Walmart International procured 1,637 GWh of Walmart-driven renewable energy. That's more than double Walmart International's total from a year earlier, with Mexico and U.K. leading the way.
Walmart Mexico, through off-take agreements, broke ground on four large-scale renewable energy projects that will be completed in 2014. Combined, these projects will add 252 megawatts (MW) of clean energy to Walmex stores. Together with the 67.5MW of wind energy currently serving Walmart Mexico stores, these projects will represent 1,195 GWh of renewable energy, more than 40 percent of its annual consumption. Walmart Mexico is on track to supply 60 percent of its energy demand needs for 1,233 stores through renewable energy by the end of 2014.
Walmart Brazil entered into a public bid to purchase green power on the open market sourced from sugar mill, hydropower and small hydropower plants. To date, 80 stores are being served by this clean energy, with an expected savings of 11.5 percent on each store's energy bill. Eventually, 97 stores will be served through this green power bid.
Walmart U.S. installed its 250th solar energy system, with each system providing 15 percent to 30 percent of a store's electricity needs. Walmart U.S. grew its number of fuel-cell sites to 42, each site providing 40 to 60 percent of store needs. These new systems bring us closer to our anticipated total of more than 1,000 projects worldwide.
Walmart's first 1 MW wind turbine completed its first year of operation. This utility-scale turbine provides approximately 15 to 20 percent of the total electricity required by our Red Bluff Distribution Center in California.
Awards and recognition
Confirmed as the largest on-site green power generator in the U.S. by the EPA Green Power Partnership for the second year in a row.
Recognized by the Solar Energy Industries Association (SEIA) as having the most installed on-site solar capacity in the U.S.
Named one of three finalists for the 2014 Zayed Future Energy Prize in the large corporation category. This annual award, based in the United Arab Emirates, celebrates achievements that reflect impact, innovation, long-term vision and leadership in renewable energy and sustainability.
Continued progress
We've come a long way since the installation of our first small-scale, on-site solar project in the U.S. in 2005 and signed our first large-scale wind power purchase agreement in Mexico in 2006. At the end of 2013, we had more than 335 renewable energy projects in operation or under development across our global portfolio. These projects provide our facilities with more than 2.2 billion kWh of renewable electricity annually, accounting for approximately 32 percent of our 2020 target. Together with renewable electricity from the grid, 24.2 percent of our electricity needs globally are supplied by renewable sources.
"Walmart's goals are not only a sign of strong leadership for the company, they can spur others around the world to take action. Walmart's commitments show that it understands the urgency of embracing renewable energy to reduce pollution and greenhouse gases, while driving business growth that is cleaner and more efficient. WRI has provided advice on Walmart's renewable energy strategy and has seen the company in action in the United States and in emerging markets, like India. By following through on these commitments, Walmart can set a powerful example for businesses and government officials alike who are looking to move to a more sustainable and low-carbon future."
– Andrew Steer, president and CEO, World Resources Institute
Challenges
While attempting to scale renewables and accelerate efficiency globally, several unique challenges prevent some markets from adopting and expanding renewable energy as quickly as others, including:
Price: The price of renewable technology, such as wind and solar, as well as the price of grid-generated energy, in our various markets
Availability: The availability of renewable resources and suppliers doing business in various markets
Energy policy: The presence of sound regulations and incentives that create a business environment where projects can be easily permitted, built, contracted for, financed and interconnected to the utility grid or customer facilities
We recognize we will not get where we need to be by working alone. Developers, suppliers and regulatory bodies need to align in order to create an environment that supports adoption.